Blog
New Labor Center Report: Essential, Precarious, and At Risk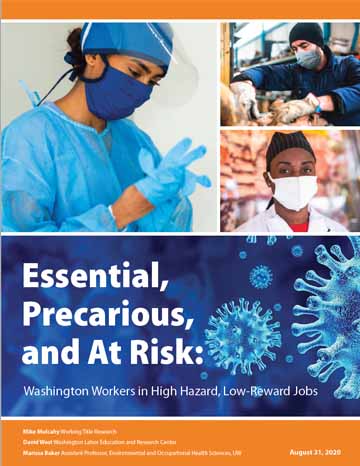 You can view the report here
September, 2020 - Nearly a million Washington Workers work in occupations where they daily face a high risk of contracting SARS-CoV-2 while struggling with precarious financial circumstances, and their numbers go far beyond those currently designated "essential". The Washington State Labor Education and Research Center's new study, Essential, Precarious, and At Risk: Washington Workers in High Hazard/Low-Reward Jobs, combines data on occupations, workplace safety, and poverty to demonstrate that COVID-19 workplace risks affect a larger workforce than what is currently deemed "essential".
Essential, Precarious, and At Risk is the first comprehensive analysis of Washington workers by both economic status and potential SARS-CoV-2 workplace risk. The report identifies 55 occupations with over 900,000 workers that are both potentially hazardous and economically precarious – occupations that combine low wages and/or inadequate benefits with high SARS-CoV-2 hazard scores.
Other highlights:
The high-hazard/low-reward workforce is heavily female—women constitute two-thirds (66.5%) of workers in these occupations, an estimated 600,000 workers, much higher than their 47.9% share of the overall labor force. And women represent over 80% of the labor force in 17 of the 55 key occupations–nearly double their share of the overall workforce.
The high-hazard/low-reward workforce is disproportionally non-white—workers of color constitute about 35% of workers in 55 precarious, hazardous occupations, while their share of Washington's total workforce is only about 30%. Black workers are highly overrepresented, 43% higher than their share of the total workforce, with about 52,000 workers in these occupations.
The High Hazard/Low-Reward Workforce isalso Washington's Essential Workforce—Workers in essential occupations account for about 629,000 (70%) of these high hazard/low-reward workers, and about 2.3 million workers (71%) of the overall Washington workforce.
Forty-one percent of Washington's workforce—about 1.4 million workers—are in high COVID hazard occupations.
The report is co-authored by Michael Mulcahy, Working Title Research, David West, Labor Education and Research Center and Marissa Baker, Assistant Professor, Environmental and Occupational Health Sciences, University of Washington.
You can view the report here
News coverage of the report:
UW News: https://www.washington.edu/news/2020/10/05/women-workers-of-color-filling-most-high-hazard-low-reward-jobs-in-washington/
South Seattle Emerald: https://southseattleemerald.com/2020/10/22/essential-workers-including-those-in-health-care-hit-hard-by-covid-19-and-environmental-health-threats/
The Daily: http://www.dailyuw.com/news/article_6a6d164a-1ccd-11eb-ac78-979666942478.html