Washington State Labor Education & Research Center
The tale of many pandemics: Worker voices, Worker data
As Washington begins to "reopen" and policy makers debate recovery policies, the Labor Center is sharing two new tools that spotlight the need for equitable workforce recovery policies. 
New Video: Voices from the Frontline
The Labor Center, in partnership with Remove the Gap Productions has produced a series of short videos lifting the voices of Washington workers in this pandemic. The first video, entitled COVID Hazards at Work: Voices from the Frontline, features local health care, home care, grocery workers and domestic workers with commentary by Jessica Martinez, Co-Director of the National Council for Occupational Safety and Health.
Washington Workers in the Pandemic
Our new report, Washington Workers in the Pandemic, confirms the lived experience of our state's workers:  this pandemic has on average hit women differently from men, white workers differently from Black and Latinx workers.  The report, third in a series by the WA Labor Education and Research Center and Working Title Research, confirms:
The #1 reason women of color have left the workforce: to fulfill unpaid family care needs, rather than for lack of work.   
Men, and particularly Latinx men, were alarmingly and disproportionately likely to have lost work due to illness and COVID19.
Women, especially women of color, more frequently cited examples of extreme family economic distress – unpaid bills, food insecurity, and children's food insufficiency.  Food insecurity hit families of color, and especially Latinx households, hardest.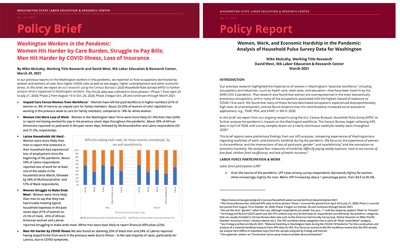 Unlike our prior reports focusing on low-wage frontline workers, this report examined households across the state using three different Census Department survey "snapshots"; it compares all workers' experience across occupations, demographics, and time.  This broader look at Washington households confirms: there will be no broad-based recovery until Washington address the childcare crisis and other equity-focused policies to support working families. View the Policy Brief summary and the full Report using the links above. View our earlier Pandemic reports on our Research and Publications Page.
Sign up for Know Your Rights at Work Training!
Sign up for one of the Labor Center's incredible free, online workshops! Learn how to use RightsatWorkWA.org to know your own rights, and to help your coworkers, family, and friends protect their rights at work. Hosted by Labor Educator Emilie Slater, the next online trainings will be April 6 and May 10. All trainings start at 5:30 Pacific Time. Registration is required and space is limited. Closed Captioning and interpretation service available. You will need a computer, tablet, or smartphone with internet access to participate. Please use this link to sign-up. For more info, contact Emilie Slater, emilie.slater@seattlecolleges.edu.
New Labor Center Report:
Highest Risk, Hardest Hit:
Pandemic Impact on Washington's High-Risk, Low Wage Workers
Many  low-wage occupations at high-risk for COVID-19 are experiencing disproportionate unemployment impacts during the pandemic according to a new Labor Center report. In many of these same occupations unemployment is resulting in increasing applications for food stamps and temporary/emergency assistance.
With unemployment still disproportionately high for many high-risk, low wage jobs in early 2021, we expect continued high economic hardship, increased need for assistance and growing housing insecurity through the remainder of 2021. Read the Highest Risk, Hardest Hit Policy Brief here and full report here.
About the Labor Center
The Labor Center works with unions, community-based organizations and within colleges throughout Washington State to provide training and classes for and about working people.
Our mission is to use the best practices of adult education to design programs to help working women and men develop the skills, confidence, and knowledge to be leaders at work and in their communities. We offer specific skills-development classes like steward training, collective bargaining, and meeting facilitation, and broader informational programs like labor history, and economics for working families.
Our teaching is based on a popular education model that draws heavily on the experiences of workshop participants. We also organize conferences and workshops open to the public. The Center houses a variety of resources, such as book and film libraries, that are available for public use.
Our staff is available as guest speakers or presenters. Some of our services are provided free of charge. Fees are charged for some classes, conferences, and events. When we design a training for a particular organization we charge an hourly and/or daily fee for preparation and instruction, plus expenses. All terms are agreed upon in advance. Please contact us to learn how we can serve your organization.
How to Contact the Labor Center
Please note that the South Seattle College has moved to remote operations due to COVID-19 until further notice.  The Labor Education and Research Center staff is on duty but working remotely. For information on our training and education programs, contact Emilie Slater, emilie.slater@seattlecolleges.edu. For more information on our research work, contact David West, david.l.west@seattlecolleges.edu.
Washington State Labor Education and Research Center
South Seattle College Georgetown Campus
6737 Corson Ave S, Building B Room 106  
Seattle, WA 98108
206.934.6671