Washington State Labor Education & Research Center
In the News
Women of the WNBA Players Association and Their Epic Fight for Gender & Racial Justice" was held in August 2021 as a part of the annual Summer Institute for Union Women. The resource guide from the event is now available for download! The full event is also available to view online.
Seattle researcher Kimberly Earles, who wrote The Gender Divide in the Tech Sector, a 2020 report for the Labor Center, was recently interviewed on her work for In Her Sight, a blog on gender issues. The article, Why Transparency at Work Matters, goes in-depth on Kim's LERC report, Kim is also co-author of the One America report on the Tech sector covered in the next article below.
NEW REPORT: Creating Quality Jobs for All In WA's Tech Sector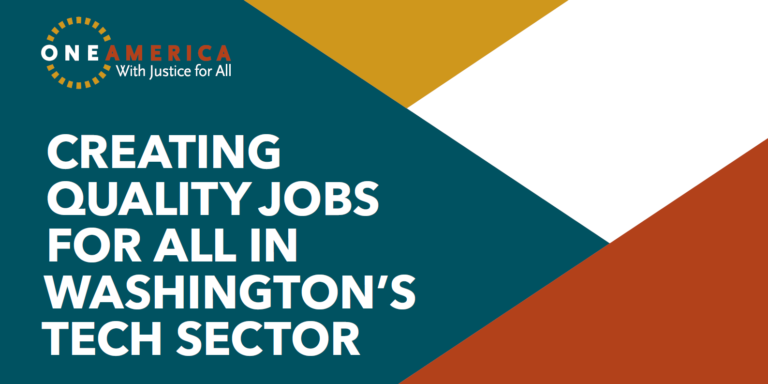 A new report by co-authors Kimberly Earles and Marcus Courtney reports on who benefits from Tech sector jobs, and examines inequities in the Tech sector that limit career opportunities and achievement for women, Black, Indigenous, People of Color, immigrants, and refugees.
A large share of the tech workforce are jobs with precarious economic stability, as low-wage warehouse workers or through staffing agencies or gig work.
Women and BIPOC workers are grossly underrepresented due to workplace discrimination and tech sector culture, adding to the failure of educational and workforce pipelines into the sector.
H-1B workers hired through staffing agencies are often grossly underpaid relative to their peers and contract and gig workers face greater job insecurity, fewer benefits, and lower pay than regular employees in the sector.
Women of all races remain sidelined from the most prestigious and well-paying jobs.
Creating Quality Jobs for All in Washington's Tech Sector proposes achievable economic and workforce policy recommendations to address these problems. Use this link to view the report.
COVID Workplace Protections Changing
The Labor Center has updated its Rights At Work WA website to reflect the latest June 30, 2021 changes to Washington State and national OSHA COVID worker protection rules. Although Gov. Jay Inslee relaxed mask requirements and capacity limits for many businesses, there are still emergency standards protecting workers rights to wear masks, file COVID safety complaints, take needed sick leave, unemployment and workers comp for COVID-related illness. The Rights At Work WA website will continue to be updated as rules change later this year.
Video: COVID and Workplace Safety: Where do we go from here?