Maps & Directions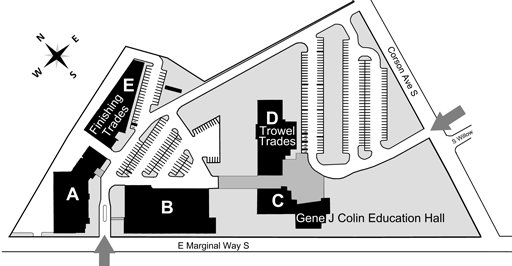 Georgetown Campus
Puget Sound Industrial Excellence Center
Apprenticeship & Education Center
6737 Corson Avenue South, Seattle, WA 98108
Phone: (206) 934-5350
Directions to Georgetown Campus
North or Southbound from I-5
Take Michigan-Corson exit (#162). Go straight ahead on Corson Avenue to second light. Entry is on right just before E. Marginal Way S. Drive a half block to Georgetown Campus (on right).
From South Seattle College campus
South one mile on 16th Ave. S.W.
Left onto Holden Street.
Left onto Highland Park Way to bottom of hill.
Continue through intersection.
Go under bridge, take right to ramp up on First Avenue Bridge.
Stay in right lane and exit onto Michigan Street
Turn right at end of ramp to E. Marginal Way.
Drive two blocks and turn left on Corson Avenue. Entry is on left.
Directions from Georgetown to South Seattle College
Right onto Corson Avenue S
Right onto E. Marginal Way S.
Left turn lane from E Marginal Way S to 1st Ave. Bridge, taking ramp onto bridge.
Take FIRST exit (W. Marginal Way/South Park).
Right at end of ramp; left at signal.
Left at Highland Park Way (up the hill).
Take first right turn onto Holden, continuing to 16th Ave. S.W.
Right onto 16th Ave. S.W., follow north one mile to South Seattle College campus
Parking
Parking is available for $5 a day. Attendees pay at the parking kiosks located in front of the Colin Educational Hall and entrance to Building B.
Bus routes
There are multiple bus routes servicing stops near Georgetown Campus, including King County Metro Bus Route 60 and Route 124.  You can also call METRO (206.553.3000) or check the METRO Trip Planner for bus route schedules and times using "CORSON AVE S & EAST MARGINAL WAY" as your destination.