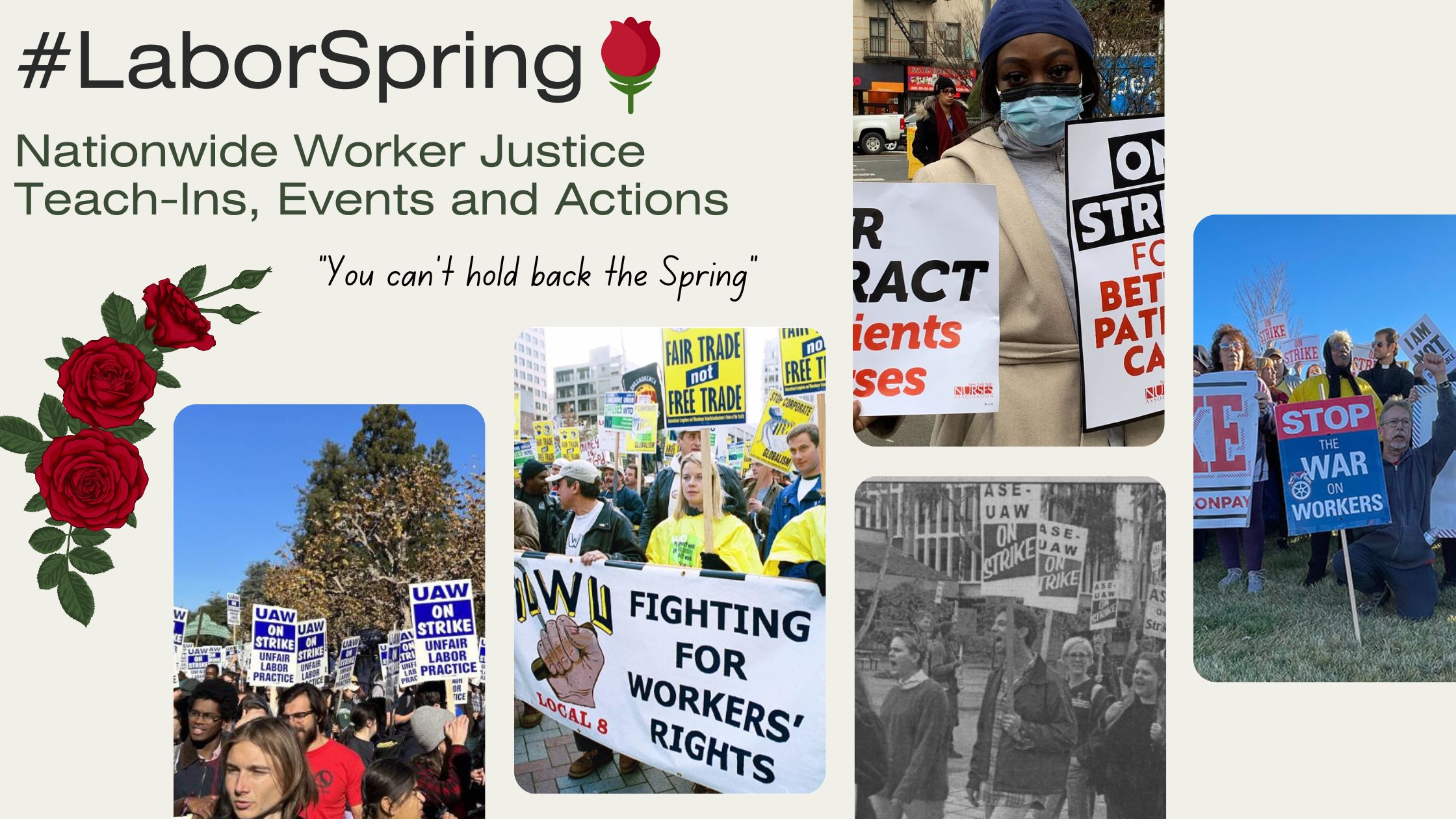 This March, April and May, the Labor Center is proud to participate in Labor Spring 2023, a nationwide series of teach-ins, events and actions.
We are sharing both our own events and local events sponsored by the Harry Bridges Center for Labor Studies and the Pacific Northwest Labor History Association
MARCH 29, 2023 - MAY 19, 2023
BUILDING A MOVEMENT LABOR ART EXHIBIT
Viewable during all building hours.
Odegaard Library, University of Washington, Seattle.
This special one-time exhibit, created by Building a Movement (BAM) undergraduate interns at the Bridges Center for Labor Studies, uses mixed media art to showcase contemporary labor organizing efforts in Washington State. The exhibit expands the definition of labor organizing by bringing attention to community activism that has not often been considered part of the labor movement. The goal of this exhibit is to showcase the richness of labor organizing and encourage community members, and especially UW students, to explore their own relationship to labor and labor activism.
Subjects include grocery workers activism; the working conditions of Amazon delivery workers; grassroots organizing at the Tacoma Northwest Detention Center; unionization efforts of Ostrom Mushroom Workers in Sunnyside, WA; BIPOC labor leaders in Washington State; living and working conditions of Academic Student Employees at the University of Washington; the history of community organizing in Chinatown/ID, Seattle; and interviews with labor organizers at SEIU Healthcare 1199NW.
5:00pm-6:30pm (Pacific Time).
Streaming on-line via Zoom. Register for link.
The iconic leader of a small but powerful union, Harry Bridges was a highly controversial figure within the twentieth century labor movement. The result of more than 30 years of research, Robert Cherny's new monumental biography of Bridges tells the life story of the person who built the International Longshore and Warehouse Union (ILWU) into a labor powerhouse that now represents some 30,000 workers.
Join the University of Washington's Harry Bridges Center for Labor Studies for an evening with author Robert Cherny, labor journalist E. Tammy Kim, and ILWU activist Zack Pattin, reflecting on Bridges's life and his legacy for the labor movement today.
12:30pm-2:00pm (Pacific Time).
Streaming on-line via Zoom. Register for link.
The Harry Bridges Center will host a panel of researchers to discuss the role of public record requests and the Freedom of Information Act (FOIA) in labor research and beyond. We will discuss Washington State's Public Record Act and the FOIA, specifically what these acts allow and how they support researchers and anyone interested in accessing materials that are within the purview of the acts.
Our panel will include Joyce Sinakhone, a union researcher at SEIU Healthcare 1199NW, Phil Neff, a Research Coordinator at the University of Washington Center for Human Rights, and Trevor Griffey, a Labor Historian at UC Irvine, and the co-founder of the Seattle Civil Rights and Labor History Project. In addition to receiving information, advice, and examples of public record requests, workshop participants will have a chance to receive support in submitting any public record request they are working on!
WEDNESDAY, APRIL 26: WORKER MEMORIAL DAY - VIRTUAL CEREMON, "WORKER JUSTICE, CLIMATE JUSTICE," WITH KEYNOTE SPEAKER SHEMONA MORENO, 350 SEATTLE
11:30am-1:00pm.
Streaming on-line via Zoom.
Register for link.
The University of Washington's annual Worker Memorial Day event is a special ceremony that raises awareness about how we can strengthen our commitment to make jobs safer and save lives in Washington State. This year's theme is "Worker Justice, Climate Justice." The keynote speaker will be Shemona Morena, Executive Director of 350 Seattle.
6:30pm-7:30pm.
Kane Hall, Room 120.
Registration Required.
Ai-jen Poo is an award-winning organizer, author, and a leading voice in the women's movement. She is the President of the National Domestic Workers Alliance, Director of Caring Across Generations, Co-Founder of SuperMajority, Co-Host of Sunstorm podcast and a Trustee of the Ford Foundation. Ai-jen is a nationally recognized expert on elder and family care, the future of work, and what's at stake for women of color. She is the author of the celebrated book, The Age of Dignity: Preparing for the Elder Boom in a Changing America. As a leading voice in the women's movement, Ai-Jen Poo will talk about the status of today's labor movement and its impact on women.
THEME: "LABOR RESURGENCE: LEARNING FROM THE RECURRING CONFLICT WITH CAPITAL," WITH KEYNOTE SPEAKER PROFESSOR MOON-HO JUNG, HARRY BRIDGES ENDOWED CHAIR IN LABOR STUDIES, UNIVERSITY OF WASHINGTON.
Full program here.
Washington State History Museum, 1911 Pacific Ave, Tacoma, WA 98402.
Featuring Keynote speaker: Moon-Ho Jung, and Harry Bridges Endowed Chair in Labor Studies at UW
Also including: Michael Honey, Dan Berger, Ragya Kaul, Sara Palmer, Aaron Goings, Jim Gregory, Michael Goldfield and more!
Workshops on the history of labor on the waterfront, in timber and canneries, racial justice and the fight against restrictive covenants, migrant workers' unions, Black liberation struggles and more Pacific Northwest working class history.
The Labor Center is excited to offer free registrations for Seattle Colleges staff, faculty and students. See here to apply.