Blog
Labor Policy Researcher Opening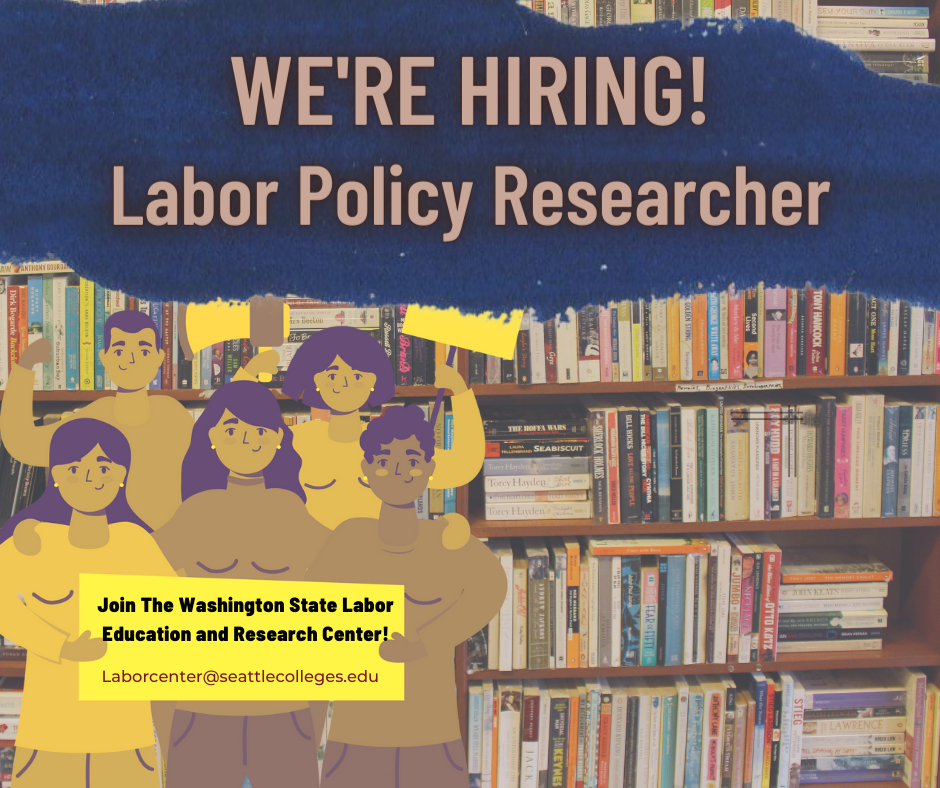 Are you passionate about racial, social, gender and economic justice? Have you successfully helped raise the visibility of policy issues affecting working families, and elevated the voices and interests of workers? Have you created research that helped inform policy debates affecting working families?
If so, we invite you to join our team at the WA Labor Education and Research Center!
Application and required materials must be submitted no later than: June 10, 2022. Click here to apply.

Salary range for this position is: $53,000.00 to $73,200.00 (depending on experience). Benefits include comprehensive Medical, Dental, Life, and Long-Term Disability insurance through the Public Employees Benefits Board (PEBB), TIAA-CREF 401(a) Retirement Plan, generous paid leave and more.
As a researcher, you will be a key member of a team that provides education to and research about Washington's workers. Our education and research centers on the daily experience of Washington workers. We use popular education to support workers' developing skills in workplace leadership and advocacy, and building knowledge of workers' rights, labor history, and our political systems. Our research team creates timely, relevant reports on Washington's working families, with special emphasis on the needs of Washington women, BIPOC, low wage, immigrant, and vulnerable workers.
Our Labor Center serves working Washingtonians statewide; we are located at the Georgetown Campus of the South Seattle College. Our Center provides a key link between workers and our state Community and Technical Colleges. We partner with labor unions, community and workers' rights organizations, universities and apprenticeship programs throughout our state, and across the US and Canada, to provide training and research that workers can use.
What you will be working on:
Research: Produce both qualitative and quantitative research on labor policy, worker rights, laws and regulations affecting workers and their community.
Help maintain the Washington State Workers Rights Manual (www.rightsatworkwa.org) Ensure that our online tool for workers stays up-to-date and relevant.
Strategic Outreach and Coordination: Form effective policy research collaborations with labor movement organizations, community and governmental partners, and higher education scholars both in Washington State and nationally
Support Labor Center public event programs: Provide logistical and administrative support for Labor Center events and functions; present your research in public forums
Support faculty and students at Washington State secondary and higher education institutions: Working with campus programs and instructors to incorporate the specialized knowledge and practices of Labor Policy Research into existing College settings.
Grant Writing: Seek and obtain public or private funding for labor policy research projects.
What you bring as a candidate:
(Any Equivalent Combination of Knowledge, Skills, Abilities, Education and Experience)
Bachelor's Degree AND a minimum of three years' experience in labor policy research, OR 5 years of labor policy research experience. A Master's Degree in a related field is a plus.
Ability to identify topics, and to utilize innovative methodologies, in labor policy research and publication
Strong quantitative and qualitative skills and experience using common research methods (e.g. analyzing complex government datasets such as the Current Population Survey, focus groups, ethnographic interviews, surveys, etc).
Demonstrated excellence in writing on policy topics in a manner accessible to the public.
Commitment to a deepening practice of anti-racism, demonstrated both in the topics of our work and the ways in which we conduct our work.
Experience in community, labor or public policy advocacy, ideally within diverse multiracial settings.
Proficiency in more than one language is a plus
Ready to apply? Click here to enter our online application system. Need assistance with our online application system? Contact us at laborcenter@seattlecolleges.edu or 206-934-6671.