Blog
Labor and Community Educator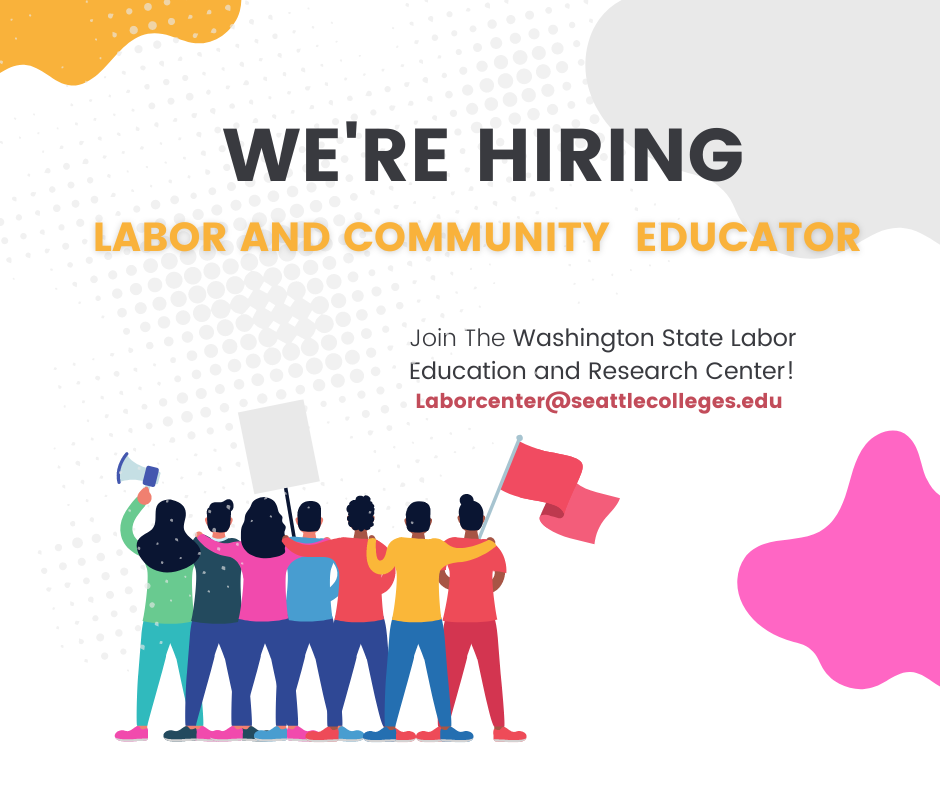 Come join our team! We are hiring a full-time Labor and Community Educator. First review of completed applications and materials on February 27th, 2023.
The Washington Labor Education and Research Center at South Seattle College's Georgetown Campus serves workers of all ages, races, genders, languages and communities, working in many industries. We provide working people with useful tools, through education, training, conferences and events, and timely, targeted research.
Our education and research are focused on the daily experience of Washington workers. We use popular education to support workers developing skills in workplace leadership and advocacy, and build knowledge of workers' rights, labor history, and our political systems. Our research team creates timely, relevant reports on Washington's working families, with special emphasis on the needs of Washington women, BIPOC, low wage, immigrant, and vulnerable workers.
The Labor and Community Educator will join a team 1) providing public training on topics including rights in the workplace, health and safety issues, peoples' history, and immigration; 2) sponsoring public conferences on issues of work, labor, and public affairs; and 3) providing special training for labor organizations on organizing, member engagement, bargaining and labor agreements.
We're looking for a grass-roots activist/educator with experience working in low-wage jobs, experience in anti-racist work, and knowledge about Washington's BIPOC and immigrant communities. Additional language skills are also helpful.
See our online position posting and application here.
Need assistance with our online application system? Contact us at laborcenter@seattlecolleges.edu or 206-934-6671.